Using Filters to Target your List
Within Commercial Leadpipes there are various filters to help target a specific type of lead for your list to market to.

1. On the main Commercial Leadpipes search page, begin your search by:
 

A. Specify the location you would like to begin your search. Enter a City, County, State, Zipcode, or specific address
B. Use our robust Property Type search by typing the property type you are looking for. e.g. Golf Course, Medical Building, Restaurant, etc... and when you see your option display, check the box to the left of it.

C. You can also scroll through our main property type categories and select an entire category or click the arrow to the right of the category to pick the specific property type sub-category you are looking for.


You are also able to specify the type of lead (Absentee owner, Low Equity, etc.) and the Owner Type (Individual, Trust, Etc.)
 
Once you have selected your search criteria, click SEARCH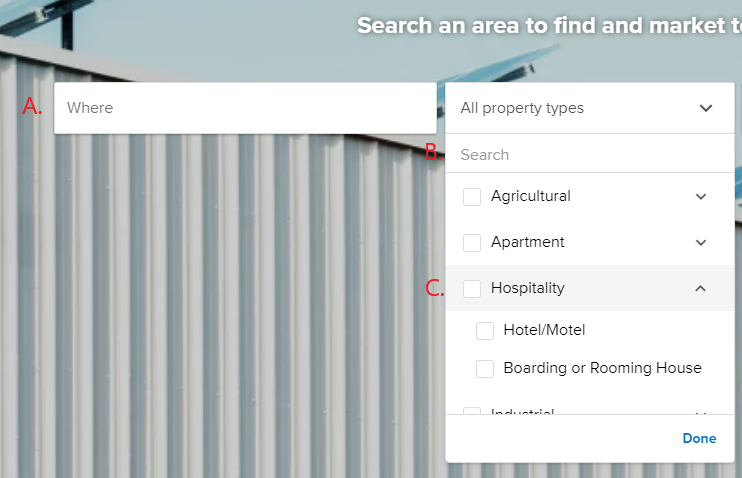 2. On the next page you will see the results of your initial results on the right. You can adjust the same filters AND/OR use additional filters to further refine your search:


Square Footage
Lot Size (Sq Ft to Acreage)
Taxable Value
The filters below are listed under the "More" filter dropdown
# of Stories
Year Built
Loan to Value
Last Sale Price
Last Sale Date
Last Notice Date
Auction Date
Zoning Codes
Owner Names
Property Has Not Sold
In-State Absentee Owner
Out of State Absentee Owner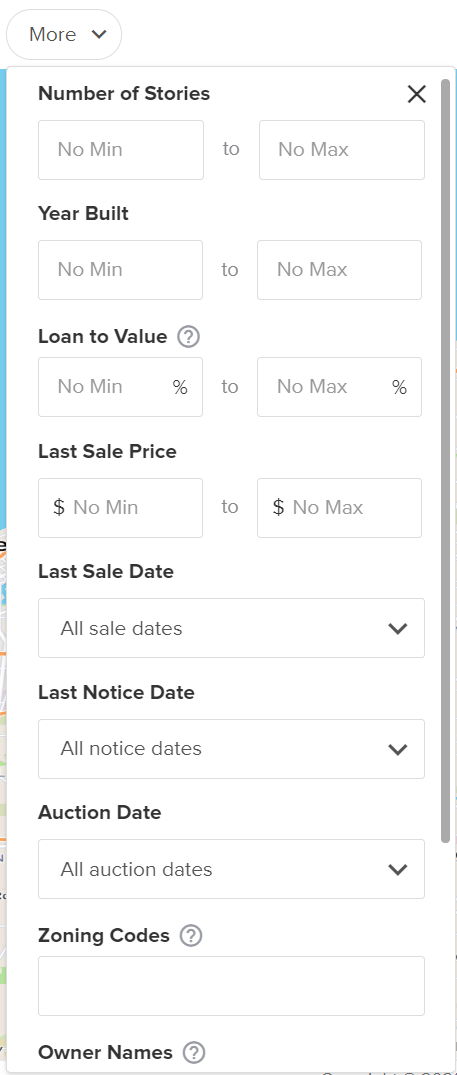 Tip: Keep in mind that the more filters you apply to your search the smaller the list becomes. We recommend starting with a few filters and adding more after your initial search.
If you have any questions, feel free to contact our support team at support@realeflow.com / 855-545-2095.